The EMRA Medical Student Forum is a half-day session held both in the spring and the fall geared to EM-bound medical students. Lectures offer evidenced-based advising to help you match in emergency medicine.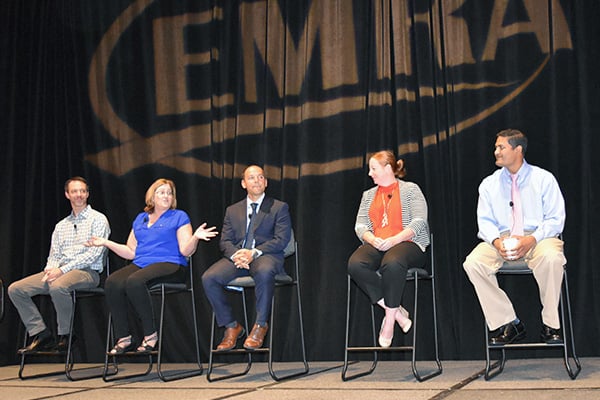 EMRA Spring Medical Student Forum
Medical students – you asked and we listened! EMRA now offers a Spring Medical Student Forum (in addition to the EMRA Fall Medical Student Forum held in conjunction with the ACEP Scientific Assembly). In 2019, the Forum will be held before the ACEP Leadership and Advocacy Conference. So consider staying to connect with EM leaders and learn how policy can shape your training and practice.
FREE to EMRA Medical Student Members! Only 200 spots available.
Register Today
EMRA Spring Medical Student Forum Schedule
Saturday, May 4, 2019
Washington DC / Arlington, VA area
Hyatt Regency | Crystal City at Reagan National Airport
2799 Jefferson Davis Highway
Arlington, Virginia 22202
Hotel Information | Map, Parking, and Transportation

The day before the ACEP Leadership and Advocacy Conference
Saturday, May 4 - 12:15p - 6:30p
12:15p
Medical Student Forum Registration Opens
1p
Welcome
1:05p
Being a National Medical Student Leader
1:30p
Breakout Sessions
MSI & MSII

Positioning Yourself for Success: The First Years

Arlene Chung, MD, MACM
Maimonides Medical Center, Program Director
Amy Cutright, MD
University of Nebraska, Clerkship Director

MSIII

Navigating Aways and the Application Process

Trevor Pour, MD
Mount Sinai - New York, APD and Director of Undergrad Medical Education
Mary Westergaard, MD
University of Wisconsin, Residency Program Director
Vice Chair of Education

MSIV

How to Succeed as an Intern

Joelle Borhart, MD, FACEP, FAAEM
Georgetown University, Associate Program Director
Jason Wagner, MD
Washington University in St Louis, Program Director

Break
2:35p
EM Hands On Boot Camp and Skills Lab
4:05p
Medical Student ABC's of Health Policy
5p
Movie Screening : 24/7/365: The Evolution of Emergency Medicine : (Optional)
Save the Date - Fall Medical Student Forum and Residency Fair
Saturday, October 26, 2019
Medical Student Forum : 8a - 12p
Residency Fair : 1:30p - 3:30p
Denver, CO