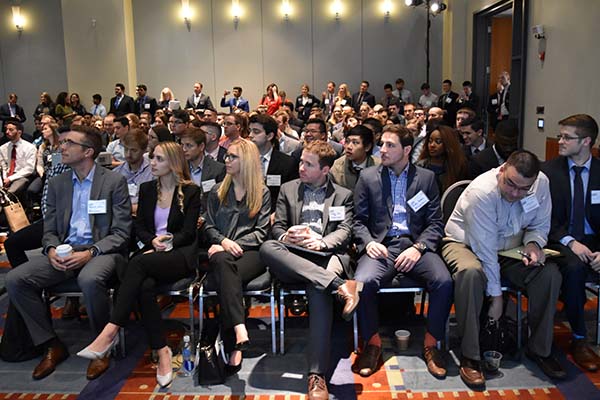 Medical students have questions about matching in emergency medicine. The EMRA Medical Student Forum brings together program directors, interns who just matched in EM, and faculty to answer questions specific to your phase in training. General sessions answer big-picture topics, and breakout sessions per year to target exactly where you are in your training.
The Medical Student Forum is full. We are no longer taking registrations.
If you would like to attend the event, we will use our best efforts to accommodate you. Historically, we have many registrants not actually show up. We will fill these empty seats with unregistered EMRA medical student members who arrive the morning of the event.
Just come to the Medical Student Forum registration desk. We will create a line on a first-come-first-served basis of unregistered folks. Once the session begins, we will start seating.
7AM - Continental Breakfast Served
Sunday, September 30
7a
EMRA Medical Student Forum

Registration Opens and Breakfast Served


Sponsored by:
Laurel Road
Guthrie Robert Packer Hospital EM Residency Program
Marriott Marquis
Marina FG Foyer
South Tower, 3rd fl
8a - 12p
EMRA Medical Student Forum (Free for Members; Registration Required)
Sponsored by:
Laurel Road
Guthrie Robert Packer Hospital EM Residency Program
Marriott Marquis
Marina FG Foyer
South Tower, 3rd fl

Program Director Panel: What Makes an Applicant Stand Out

Tiffany Murano, MD - Moderator
Rutgers University
Sameer Desai, MD
University of Kentucky
Christopher Fee, MD
University of California San Francisco
Jenna Fredette, MD
Christiana Care Health System
Linda Herman, MD, FACEP
Kaweah Delta HCD
Michelino Mancini, DO
Lakeland Health

Intern Panel: Lessons Learned to Match in EM
EMRA Medical Student Forum Breakout Sessions
(Free for Members; Registration Required)
MSI and MSII Break Out Session
Positioning Yourself for Success: The First Few Years
Marriott Marquis
Cardiff/Carlsbad
South Tower, 3rd fl
MSIII Osteopathic Student Break Out Session
Navigating the Application and Match Process
Marriott Marquis
Point Loma
South Tower, 1st fl
MSIII Allopathic Student Break Out Session
Navigating the Application and Match Process
Marriott Marquis
Marina Ballroom D
South Tower, 3rdt fl
MSIV Break Out Session
Interview Day Advice
Marriott Marquis
Marina Ballroom FG
South Tower, 3rd fl
International Students

Marriott Marquis
Balboa/Mission Hills
South Tower, 3rd fl

2:30p - 4:30p
EMRA Studio for Med Students

Marriott Marquis
Pacific Ballroom

2:30p - 4:30p
EMRA Residency Program Fair & EMRA Studio
Marriott Marquis
Pacific Ballroom
Medical Student Forum Sponsors
Monday, October 1
Tuesday, October 2
Wednesday, October 3
See the complete ACEP18 schedule